Feel the entourage effect in every drop
CBD Oil 2.0 is a revolutionary formula that significantly enhances the CBD you know and love. By complementing CBD with a greater concentration of smaller cannabinoids, we've maximised the benefits of the entourage effect. The result? A significantly improved wellness experience, backed by independent testing, quality assurance, and natural ingredients.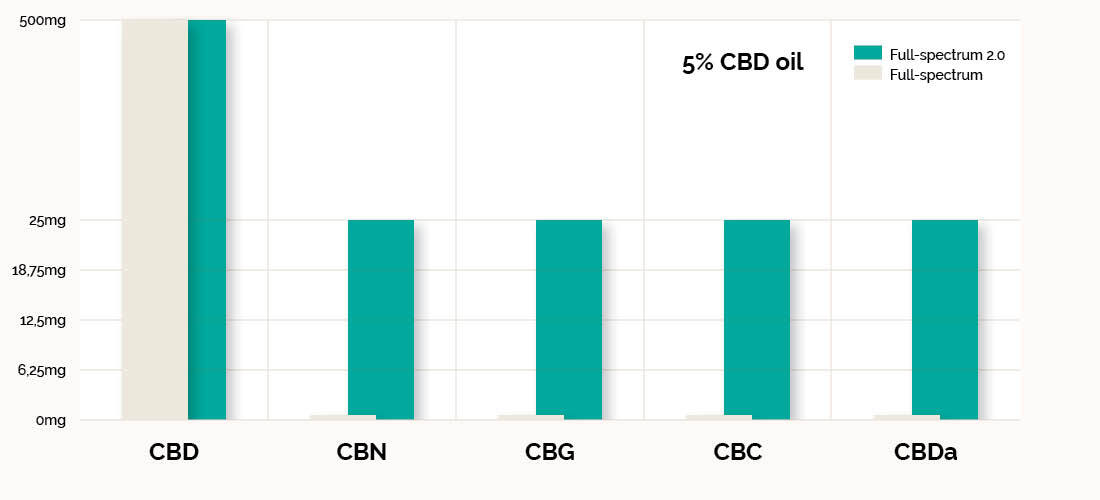 The true potential of CBD lies in its ability to work alongside smaller but equally important cannabinoids such as CBC, CBG, and CBN. When these non-toxic compounds exist together, their effects are greatly enhanced. However, the ratios in conventional CBD oils can vary from one batch to the next.
Our CBD Oil 2.0 formula capitalises on the concept of the entourage effect, incorporating standardised and consistent levels of numerous cannabinoids across all batches. Working alongside natural hemp seed oil and terpenes, it provides the most comprehensive boost to well-being available today.
CBD Oil 2.0 puts the collective power of nature in your hands, dramatically improving the effect on mind and body.
How to use Cibdol CBD Oil 2.0 (500mg)
For the best results, we recommend starting with 3–4 drops—taken on or under the tongue—up to three times daily.
Cibdol CBD Oil 2.0 is perishable, so store the bottle in a cool, dry place after opening.